Custom Non-Woven Recyclable, Reusable Patented E-Bag
Carried Over the Shoulder, as a Back-Pack or Handheld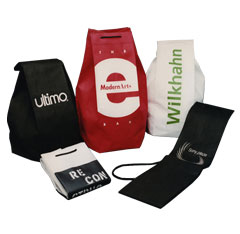 The "E" Stands for Environmental
Maximum Reuse - Easily Carried
Light Weight, But Extremely Strong
E-Bags are Washable!
Durable - Tested for Daily Use Over 1 Year
Fits in Any Purse or Pocket
Never has so much effort been put into a shopping bag! The e-bag is a patented Modern Arts bag style that started with two and a half years of research before a single bag was even made. This research involved consumer focus groups and countless meetings with scientists, environmental specialists and retailers. We even sifted through dump site data to examine degradability - now that's "in-depth" research!
Custom Quote Request Form
Complete the form below for a FREE quote.
---
Extensive research combined with 48 years of packaging experience and the feedback of the world's top design firms put the E-bag on the cutting edge of packaging design.
The reusable e-bag is made of plastic and is 100% recylable. It doesn't loose it's strength and is incredibly printable, washable and durable. Our two standard E-bag manufacturing materials are non-woven 100% polypropylene (PP) and 100% Polyethylene (PE). PP has more fabric-like qualities than PE.
We can also produce ebags in natural fibers such as canvas, cotton or jute. Just mention you would like to utilize a natural fiber in the message section of the quote request form.