Custom Boxes - Rigid Set Up Style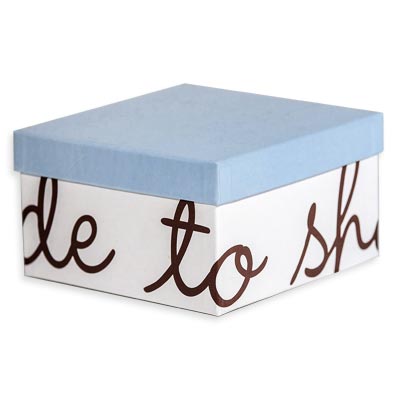 Elegant, Luxurious & Upscale. Customers Save Quality Rigid Boxes!
Custom Imprinted to Increases Brand Awareness & Retention
Many Colors, Finish Options & Textured Paper Wraps
Lids Made To Any Depthextured Paper Wrapping Available
Hot Stamping, Embossing & 4 Color Printing
Custom rigid boxes add luxury to any product or brand. Also referred to as set up boxes or paper boxes, they are up to four times stronger than standard folding cartons. Offering durable and superior protection for your products. Rigid boxes feel extravagant and enduring, holding up very well against collapsing. The ability to wrap the heavy weight paper board of the lid and base with a stock or custom paper easily gives your box a unique look. It also opens up many opportunities for unique custom printed graphics, embossing or stamping.
Custom Quote Request Form
Complete the form below for a FREE quote.
---
Need

Less Than 1,000 Boxes?

Need

Delivery in Less Than 2 Weeks?

Need

Boxes Without Printing?
Shop In-Stock Rigid Boxes
See All Stock Setup Rigid Boxes
QUANTITY RANGES FOR SET UP
With multiple custom rigid set up box operating systems in place, we can handle your order of 500,000 as well as your order of 1,000. Smaller orders can also be hand crafted. At Modern Arts we understand that your quantity needs are often contingent upon other factors. If you're testing a new product, you may choose to only order a small amount of boxes.
SIZE RANGES FOR SET UP
Setup boxes can be 1" x 1" x 1/2" deep to 30" x 30" x 12" deep. Modern Arts can make a box that fits your specifications and exact design needs.
Standard depth is 1" - 5". Depths greater than 5" may require hand labor.
MORE ABOUT CUSTOM SET-UP BOXES
Lids can be made in full-telescoping (lid spans full height from top to bottom) or at any length, including partial telescoping.
Inserts and platform can add a display feature.
Unique "piping" on edges add a distinct design feature
Can be covered in exotic materials, embossing, or a wrap-around photo
Made in our US plants or in China, turnaround time can be as fast as three weeks.
Available in virtually any size or shape, rigid set-up boxes add elegance and protection to all merchandise. In Fashion and Beauty retail such as Millinery, Accessories, Cosmetics and Haute Couture, there is no better way to present a product than through rigid set-up boxes. Windowing is also possible.

For well over 150 years, rigid set up boxes have been successfully utilized in merchandising cosmetics, fine jewelery and high-end couture. Consider brands like Chanel, Hermsè and Tiffany — their signature rigid box packaging has remained virtually unchanged in 100 years.

With rigid setup boxes being so strongly associated with luxury - some designers tend to overlook the pure benefits of a rigid box. They provide protection that is superior to any other box style. Rigid boxes lend themselves to sets or multiples which easily adds variation to your packaging program. These paper boxes are easy to open and close. They excel in stacking, handling and displaying. Not to mentoin their function as a reusable keepsake branded with your logo.
OTHER CUSTOM RIGID BOXES
Jewelry Boxes
Round Hat Boxes
Oval Hat Boxes
Metal Edged Boxes
Wooden Boxes
Metal/Tin Boxes
Clear Plastic Boxes
Corrugated Boxes
All Set-Up Boxes
Shop Our Plain In Stock Rigid Boxes
Modern Arts offers a wide variety of stock inventory, ready to ship setup boxes - available for immediate purchase online.
SHOPPING FOR
LESS THAN 500 BOXEES?
Only a $50 Order Minimum!
NEED
BLANK BOXES

OR

IN A RUSH?




Plain Boxes Ship Same or Next Business Day!