Modern Arts Packaging Consulting Services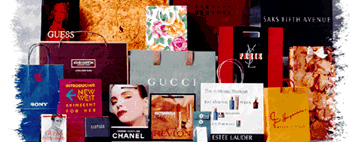 For over 45 years Modern Arts has consulted with major retailers on their packaging requirements. Services include: survey of existing program-usage and efficiency, new design development, implementation and production; including structural design, unique constructions, color control standards, cost analysis/audits, new product development, and distribution. We can work with your graphic designers or bring in our own.
CONSULTING ABSTRACT #1
Client: Dow Chemical
Design Firms: DesignFrame, Inc.; Donovan and Green, New York City; Cheskin & Masten
Client Participants: Confidential
Project duration: 36 Months
General Objectives: Design a superior shopping bag that addresses primary ecological concerns. Research the ecological effects of paper and plastic films on the environment. Explore the recycling of paper and plastic, conduct focus groups studying the preferences of consumers and research their use and reuse of shopping bags.
Specific Objectives: Determine how shopping bags are used and reused
Explore perceptions of and preferences for a variety of bag materials
Probe perceptions of shopping bags and how they may differ with specific bag elements (e.g. materials, colors, designs, handles, etc.)
Investigate likes and dislikes regarding shopping bags
Examine shoppers' current material reuse behaviors with a focus on the role of shopping bags
Solutions/Results: The project began with an overall review of plastic materials and paper substrates.
Dow Chemical, although a prime manufacturer of polyethylene, asked that we take an objective view of all types of films and papers and develop a conclusion as to which materials are most effective from an ecological standpoint. After this study, it became apparent that polyethylene was superior to other films, including polypropylene and Styrofoam, and also to kraft paper in respect to ecology.
The three main factors considered in this evaluation were (1) how the material lent itself to recycling, (2) how it related to source reduction, and (3) how well it could be reused. In all three areas, polyethylene proved to be a superior material over paper.
After establishing that plastic was the material of choice and that is would most effectively address the ecological requirements of our study, we then began an in-depth exploration of all structural and functional aspects of shopping bags and carrying containers.
This study was conducted through interviews and on-street photographic research. In addition, all styles of paper and plastic packaging from Europe and America were gathered and reviewed for existing value of structure, handles, sizes, etc.
Once we developed a thorough knowledge of the structural and practical aspects of existing shopping bags, both Donovan and Green and DesignFrame were simultaneously given the assignment of developing a new structure that was functional and reusable. This new structure was to be constructed of polyethylene film.
In the process of this development, it became apparent that plastic polyethylene film in its present state, although a very effective material as a result of its efficiency, was perceived as a "cheap" material. We therefore had to change its structure and appearances and develop an up-scale appeal.
With this in mind, we proceeded to meet and review various manufacturers capable of spinning and weaving polyethylene in woven and non-woven forms.
After both design firms had developed various structures, (each produce 15-20 new structural designs) we selected the best proposals and conducted two focus groups, one in New York and one in California. Each group consisted of 25 consumers. We reviewed current packaging as well as our new designs and developed consumer reactions to both.
Based on those interviews and the data collected, we were able to fine-tune the final designs and arrive at a consumer validated package.
With this information, we proceeded to meet with various manufacturing facilities to determine the best way to produce the new concepts.
Dow Chemical, although extremely pleased with the outcome of our work, elected not to pursue the manufacture of these bags. ModernArts is currently developing the production of these bags.
With a budget of over ¼ million dollars, this study was probably the most comprehensive ever done within the packaging industry, and netted many significant new ideas and development.
CONSULTING ABSTRACT #2
Client: Gucci
Design Firm: Susan Slover Design
Objectives: Work with the design group in creating a completely unique, innovative packaging program for Gucci world-wide which will support Gucci's efforts to recapture its classic, old-world, superior quality image, as well as introduce a modern look. Create components of the program that are realistic, producible and economically feasible. Centralize logistics, quality control and distribution. Consolidate packaging for Gucci's vast array of products.
Project duration: 13 months
Client Participants: Chairman of the Board Executive V.P./Creative Director Worldwide Director of Advertising
The designers were keenly sensitive to the complexities of manufacturing. They had some highly unusual completely unique ideas for the program which included unconventional structures and uses of materials. They wanted us involved throughout the design process to advise on feasibility, availability, production and cost. We worked with the design team from initial development, through various stages of refinement, to detailing and specification. The result was a truly spectacular packaging program and introduced in 1994.
We worked with Susan Slover Design to establish the components of the packaging system. For boxes, we developed a series of original, collapsible structures with special closures for small leather goods, handbags, accessories, apparel and shoes. Each category had a different construction with a unique closure. We analyzed Gucci's entire product line in order to properly size and consolidate packaging. We took Gucci from approximately 300 different sizes of rigid boxes to 35 sizes in folding boxes, a substantial consolidation.
For the shopping bags, which were to be produced in various sizes, the designers arrived at a structural concept that was completely new in paper bags. We analyzed the technical aspects for function, stress, balance and durability. We employed an outside testing service to perform stress tests in order to accurately evaluate and compare material options. We scaled the bags to various sizes and made prototype samples in order to full understand their function and balance and to make certain they properly accommodated the boxes. We ran a trial test and supervised production in China to insure proper printing and converting.
The program included a series of die-cut handle bags that echoed the graphics of the shopping; tissue paper for which the designers created a beautiful pattern with old-world images; and special tie-on which we resourced all over the world for the best quality and prices.
Throughout the design process, we researched and provided various samples of papers, textures, bag and box constructions, handle materials, tissue papers, ribbons, strings, and tie-ons and compiled a list of sourcing options. We developed questionnaires on packaging usage in order to determine areas of consolidation, establish costing parameters, and develop a worldwide blend for distribution. We worked through many stages of refinement to arrive at a fully comprehensive, interchangeable system of packaging. We prepared final prototypes and ran trial tests to determine feasibility. We developed final specifications for all products and prepared detailed computer drawings for mechanical preparations and vendor price quotation.
The international aspects of the project, the worldwide distribution, the creativity of the designers employing unusual constructions and materials, the strict quality standards of the client, and their vast product line, combined to form a highly complex set of problems which we successfully solved to achieve one of the most innovative packaging programs in the industry.
CONSULTING ABSTRACT #3
Client: Saks Fifth Avenue
Design Firm: Margoetes, Fertitta + Weiss|
Objectives: Upgrade overall packaging program and image without increasing total budget for this large, prestigious department store.
Project duration: 9 Months
Client Participants: Chairman of the Board Senior V.P., Marketing and Communications Senior V.P., Operations Manager of Advertising and Visual Merchandising Design Director Corporate Purchasing
Saks Fifth Avenue haired us to help transmit their new, updated image, which was created by Margeotes, Fertitta, + Weiss agency for their advertising and corporate identity campaigns, to their packaging program. Also, we were to look at consolidation of sizes and materials, consider new structures and identify any areas of possible cost savings.
We worked closely with the outside agency, the in-house design staff, and the Saks purchasing department, focusing on the technical aspects of manufacturing and making the designers aware of the various options available. We presented ideas and solution to senior management and together arrived at creative solutions that we believe helped achieve and maintain the integrity of the new image with consideration for the given budgeting parameters.
Shopping Bags:
1) Clarified sizes and bags within each category 2) Switched to more economical / practical sizes for major volume use, therefore saving dollars. 3) Provided samples and general cost comparisons of various base paper stocks, textures, printing, techniques, finishes and handle materials. 4) Upgraded overall style including turn down top and new handle
Boxes:
Created completely unique one-piece construction for ten apparel size and six giftware size boxes, yielding cost savings necessary to fund the upgrades of the shopping bags.
Provided samples and general cost comparisons of various board weights, base board constructions, prototypes, printing techniques and finishes.
Ran trial tests for construction, printing, in-store usage, customer perception and overall evaluation.
Conducted in-store staff training and surveys for customer usage and perception.
Tissue Paper:
Provided various samples of base materials and printing techniques with general cost comparisons
Explored various grades and color saturation for possible costs savings.
Ribbon/Closures:
Researched various methods and materials for box closure and decoration. Created a completely unique concept that is practical, cost-effective and reflects the new, clean understated image.
Provided samples of various base materials, colors and constructions with general cost comparisons.
The project was complex because of the large number of people involved and the various departments and concerns represented. Also, because of the huge volume of packaging required, a minor-incremental cost increase would have resulted in a huge overall expenditure. Therefore, it was necessary to establish and adhere to priorities. For example, because the shopping bag was the most highly visible element of the program and the best advertising vehicle, it was decided to put the cost savings from boxes into upgrading the quality of the bags and forego printed tissue.
Our research and results gave the Saks management team the information required to make critical decisions regarding their new image as it related to the packaging and an overall upgraded program.
CONSULTING ABSTRACT #4
Client: Sulka
Design Firm: Leber Katz, New York City
Objectives: Redesign and implement a new packaging program for this fine retailer
Project duration: 10 Months
Client Participants: President C.F.O. Senior Designer Retail Consultant
Leber Katz developed a totally new upscale look for this client. Although Sulka now has five stores, they wanted to develop a program that would address its new image and expansion of this worldwide firm.
An exciting and aesthetically handsome, but technically complex program was created by the designers based on four color process representation of burled wood and a complimentary color scheme of matte green and black. The most highly visible element, the handmade shopping bag, is printed outside overall in the burled wood patter and inside in completely black. In order to keep production costs down and printing quality consistent, pressure sensitive labels that carry out the burled wood image in seven different bag sizes, were applied to matte green die=cut bags and rigid set-up boxes.
The bags were ultimately produced in Central America, while the boxes were manufactured in New York. Both the designer and ModernArts production specialist supervised initial production to assure the planned results and consistency throughout the run.
The joint efforts of the client, the designer, and the Modern Arts team combined to make the coordination of bags, boxes, tissue, tie-ons and ribbon a critical success.