Die Cut Handle Shopping Bags
Offering A Wide Selection And Lowest Prices For Die-Cut Handle Shopping Bags
Die-Cut handle bags offer a fantastic, affordable, marketing opportunity to draw attention to your brand, particularly if you take advantage of what we term "Extreme Die-Cuts". The handle becomes an important design element particularly if you incorporate it into the graphic concept of the bag. As some of the photographs illustrate, the bags become attention grabbers which will surely get noticed and discussed around the water cooler or even the TED Conference.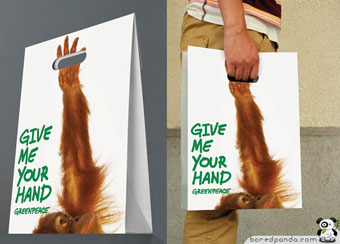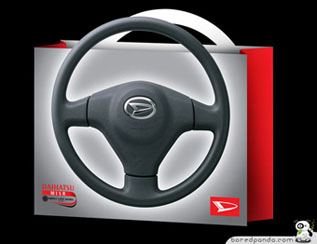 In addition, Die-Cut handle bags are eco-friendly (made from one material-monomaterial) and save on retail storage space. Costing less than a cord-handled bag, die-cut handle bags can be an attractive, budget-friendly alternative to traditional shopping bags. Produced in both sheet- fed and roll-to-roll formats there are many standard sizes available. Of course custom sizes can be produced and quoted on a per project basis but with so many size options available, you are most certain to find a standard that meets your needs. Die-cut handle bags are produced both domestically by machine (leadtimes 4-6 weeks) and overseas (leadtimes 12-14 weeks) Depending upon the size selected, the overseas production can be automated as well. With a wide range of sizes available in either machine made or hand-formed constructions, die-cut handle bags can be a budget-friendly, eco sustainable solution for your product or packaging needs.
Overseas Production can be semi-automated. Standard construction is a folded-top with cardboard reinforcement and punched thru racetrack handle. There are other standard handle shapes available and special shapes can be had with a custom die charge. Bags are sheet- fed, offset printed and formed into bags from sheets. There are standard sizes which best utilize the paper sheet and converting equipment, but also, any custom size is available. A wide variety of base paper materials are available as well as various finishing processes (aqueous coatings, embossing, laminations, etc , etc).
Overseas Standard Machine-Made Sizes
Bag Size (W x H x G)
6.125" x 7.875" x 3.375"
7.75" x 9.625" x 4.344"
10.469" x 13" x 5"
13"x 10.469 x 5"
12.5"x 15.5" x 5"
9.5" x 12.5" x 5.25"
7" x 9" x 4"
10" x 12" x 4"
12" x 15" x 4"
13" x 18" x 4"
8" x 10" x 4"
We can produce above machine made bags with diecut handles with following perimeters:
The top fold size is base on the gusset size. The best top fold size is half of the gusset size. The weight requirement of the bag also affects the top fold size.
The die cut handle shape has to be the same on front and back panels of the bag. The die cut hand shape must be regular shape (For example, round, square, and rectangle).
The minimum gusset size is 2.5".
Domestic bags are usually made from recycled kraft base papers and are compostable or recyclable. Die-Cut Serrated Edge Top bags are fully automatic which means they are printed in rolls and converted by machine.A paper patch reinforcement inside on the handle area is standard on machine- formed, domestic, serrated edge bags. Folded Top bags require some hand finishing and they have a cardboard reinforcement in turn top.
The primary method of printing is flexographic. You can print up to 8 colors and process printing is available on quantities 50,000 or more.Standard handles are kidney-shape die-cut with the handle folding back up against the bag or paper removed for open die-cut (with folded top versions only). Standard paper is 60# Natural and White Kraft, 65# Claycoat (coated white kraft paper).Other base paper options are available for certain sizes on quantities 50,000 plus (inquire with us). Should you need some bags immediately, printed and unprinted stock bags are available and ready to ship from our warehouse upon your request.
Custom Quote Request
Domestic Standard Machine-Made Sizes Die-Cut Handle Bags
Bag Size (W x G x H)
Serrated Edge Top
7-1/8 x 3-1/4 x 10-3/4*
8 x 4 x 13-5/8*

Folded Top Bags
10 x 5 x 10
10 x 5 x 13
13 x 6 x 15-3/4
13 x 7 x 17
16 x 6 x 12
14 x 8 x 14.625
16 x 6 x 15-3/4
16 x 6 x 19-1/4
18 x 7 x 18-3/4
14 x 10 x 15.5
*Available in Serrated Edge Only- handle folds up onto bag. Paper Patch. Approx.6-8 week lead time.
Folded Top Bags (Lead times vary, check with us)
By incorporating great design and die-cut handle bags into your packaging program you can do the right thing for the environment and your budget. Complete a request for quotation or call one of our representatives to discuss your project.

We will need to evaluate the feasibility of any special diecut shape handles upon receipt of the designs.