Modern Arts Develops Custom Sustainable, Environmentally Friendly Packaging for Vinagreen's 100% All Natural Dishwasher Powder.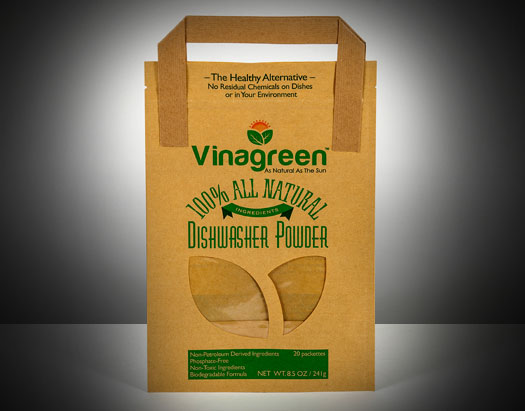 Modern Arts Packaging Spotlight shines on the uniquely simple product packaging for Vinagreen, LLC. Vinagreen approached Modern Arts after developing and bringing to market a 100% natural, healthy alternative to conventional dishwasher detergents.
Vinagreen wanted their product to stand out among the competitive landscape of the grocery store detergent isle. Embodying the "natural" aspect of their product and utilizing as many environmentally friendly standards as possible for production. Their packaging also needed to be air tight with the ability to be resealed.
When all the pieces came together this beautifully functional bag was the end result. A result that met the needs of the customer while promoting the green, sustainable vision of the Vinagreen brand.
Project Specifications:
Size:
165mm x 254mm x 110mm
Base:
65 gram Recycled Natural Kraft – 40% Post Consumer Waste Paper. Laminated on the inside with 48 gauge PET Laminated on inside with 2mil LLDPE.
Construction:
Custom Die Cut Window
Zip Seal with Tear Notch
2 Natural Kraft Loop Handles
Printing: Rotogravure | 5 Colors