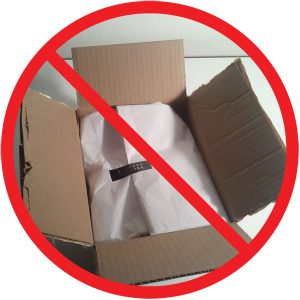 Packaging is a key touch point between your brand and consumers. The opening or "unboxing experience" is part of the customer's excitement of receiving their highly anticipated purchase. The quality of the package it arrives in compliments and adds value to the item contained within.
The online sales tsunami sweeping retail has had a catastrophic impact on the image of many of the most fashionable and well known brands of the world. In the digital retail generation, many of these brands final touch point with customers is the packaging their online purchases arrive in.
Brand owners are pocketing the savings from delivering their online sales without unique and identifiable "signature" custom packaging. This philosophy is a mistake. These brands will pay a high price for their illusion of economy. It really comes down to "What is a Brand?"
There has never been a more relevant time in any brand's history that requires more attention to the brand owner as the present moment, and there is no part of the brand equation that can be neglected. The market will be unforgiving.
The loss of the bricks and mortar store makes it all the more essential that a brand concentrate on what's left: without the physical contact that store and staff once gave the brand with its clientele, what's left is image, service, product quality and presentation. Packaging is both image and presentation.
The attention and the investment given packaging in the digital age must be redoubled, the packaging in the place of bricks and mortar, shop windows and displays, and the care of physical staff. The "Wow" must come from somewhere. Those who neglect the continuity of the brand experience in the digital space will soon find themselves without a brand.