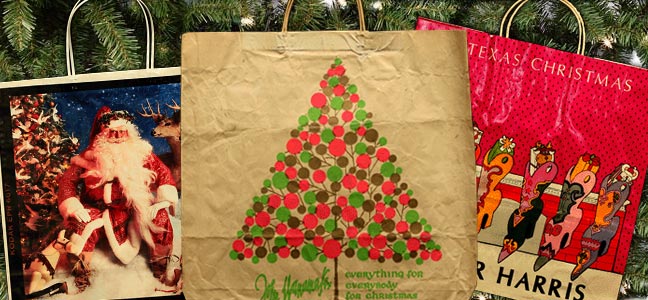 What Would The Holiday Season Be Like Without Shopping Bags?
How would our gifts accompany us home through the hustle and bustle of busy holiday shoppers?
What would keep prying eyes from a glimpse of the surprises tucked away in our closets and spare rooms?
Retailers have designed signature holiday shopping bags for many years. Working with some of the most creative minds of the time to customize their bags from season to season.
These bags have transformed into more than just simple utilitarian objects from our not to distant past. They have become a piece of history, works of art and beacons of the brands or stores that created them.
This collection of 12 historical holiday bags from Modern Arts online shopping bag museum will fill you with nostalgic holiday cheer and the spirit of the season.
If you just can't get enough holiday bags, Smithsonian Magazine also has a great collection and commentary by Owen Edwards on holiday bags and the art of the shopping bag in general – Finding the Sacks Appeal in a Collection of Holiday Shopping Bags
Check out our full collection of historic shopping bags in our museum.