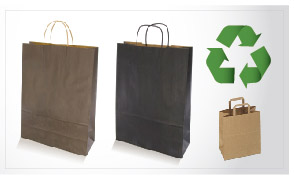 FACTS ABOUT 40% POST-CONSUMER-WASTE CONTENT (PCW)
In our ongoing research and follow-up with paper mills, we have found that supporting the 40% Post-Consumer Waste (PCW) requirement with integrity is much more difficult than what seemed possible at first glance. Many paper sources/mills claim to produce paper with recycled content, but when third-party testing is utilized one finds contradictions, distorted data —much confusion.
WE LEAD THE INDUSTRY IN THIRD-PARTY TESTING
ModernArts is one of the first packaging companies to actively participate in third-party testing and partake of new findings in the 40% PCW domain. To help you understand validation of 40% PCW content, here are key methods by which it may be verified (in order of importance):
Third-party verification
Mill audit of paper company (which allows for an advocate to be physically present during press runs).
Government document guaranteeing 40% PCW content
Letter from paper company/supplying manufacturer
Letter from manufacturer/converter
USA BAG LAWS: A CHANGING LANDSCAPE
As you know, the 40% PCW-content laws vary by state, city and county. What's more, no Federal Guidelines exist to unify this process. In a recent study conducted by ModernArts, we found that the 40% PCW-content legislation appears to be mandatory in the following states: CA (23 cities and 6 counties); CO (1 city); CT (1 city); Washington DC; HI (2 counties); IA (1 county); NY (3 villages and 1 city); NC (Outer-Banks Region); OR (3 cities); RI (1 city); TX (1 city); and WA (6 cities). In addition, the 40%-PCW content legislation is pending in at least one other area of the country. Finally, please note that these laws are changing every day. Do consult an attorney for applicability of 40% PCW legislation to your specific state, city, county or country.
MADE IN THE USA: THE LEGITIMATE CHOICE
The USA appears to be the most reliable source of 40% PCW content, but the costs involved are higher due to US-China freight required for conversion and the time spent in transport. The data from American mills also appears to be more consistent. The key factor in this choice is the composition of the PCW (60% virgin fibers from American soft woods, conifers), which is FSC-approved.
THE FAR EAST: A WORK IN PROGRESS
ModernArts has found inconsistencies in some of the Taiwan, China and Indonesia paper suppliers vis-á-vis the 40% PCW-content required by law in several parts of the United States. The good news is that ModernArts has also identified two paper mills in China that meet the 40% PCW-content requirements, when verified by third-party testing. Going forward, ModernArts' research continues, in an effort to clarify the chaotic bag-law panorama for its clients and the packaging community at large.
THE 40% PCW BRAIN-TEASER: NO STANDARDS IN THE LEGISLATION; VARYING RESULTS.
In an effort to comply with the 40% PCW legislation, many top retailers have asked US labs to perform independent tests. It appears that PCW content is very hard to determine from sample to sample. If a sample is tested, the PCW fibers would normally be smaller than virgin fibers, but, according to our sources, there is little or no guarantee that they are PCW fibers. These tests are complicated and expensive to conduct; moreover, the process is not exact. For instance, how do we know that the samples tested are indicative of the whole run? Do the results vary from run to run? Do we test each bag in each run? Do we test 1/100 for accurate results? And, to make matters more complex, do we test once a year or more frequently? There are no standards in the legislation!
ADVANCED INDUSTRY SPEAK
Are you familiar with the plastic-bag ban? Have you read through the ever-changing bag laws? The new bag legislation is often defined by state, county or country. Do you know how it affects you? Moreover, do you require eco-friendly shopping bags, recycled shopping bags and/or recyclable content? The green-shopping-bag movement is on. The newest mantra is "recycle shopping bags." How may we be of help?
TROUBLESHOOTING:
Your life as a retail professional has changed drastically. The legal issues affecting shopping bags are complex and have serious economic consequences. Let us assist you! Please contact ModernArts at 518. 828. 6800 and/or write ecosound@modern-arts.com with your packaging needs, questions and concerns. Reuse, Reduce, Recycle —Re-Imagine with ModernArts.